Originally posted September 2, 2016 on The University of Texas' School of Information Info Portal. You can visit it here: The Short Stack: August Favorites
I've been playing one of my favorite games this month called "I have nothing to read." I look at my shelves, my library books, my Kindle and my class assignments and just sit there saying, "I have nothing to read." Don't play this game with others; they tend to look at you like you've gone mad.
1. Notorious R.B.G. by Irin Carmon & Shana Knizhnik
I have an insane amount of respect for Ruth Bader Ginsburg after reading this book. She's become something of an icon in the last few years and I am in full support now. This book covers her entire life up to 2015, but in manageable bites (though not entirely in chronological order). Do you know what a struggle it was for her to become a lawyer, let alone a judge and a Supreme Court Justice? She has fought for herself and for women her entire life, coming at issues from all sides in order to make her point. While I found some of the ways she argued cases just amazing, I was equally impressed by her personal life. Her hero was her mother, which I hope that every young woman can say (I can!), and her husband was incredibly supportive of her choices. Plus, the woman works out with a former Marine and she can probably do more push-ups than most people even at their peak. You win, Notorious RBG.
2. The Assistants by Camille Perri
I barely put this book down to make and eat dinner. Tina is an overworked, underpaid assistant to media mogul Robert, a man who wants what he wants, when he wants it and without question. In the first chapter of the novel, Robert wants Tina to book a flight for him and he needs it immediately. While booking, Robert's credit card is expired and she quickly uses her own, knowing that she can and will immediately file for reimbursement. But the booking agent is rude, the call was recorded for quality control and, after sending her receipt to accounting, the airline calls to let her know that the flight will be retroactively comped. So now she has a check for nearly 20 grand, just enough to pay off her student debt. Is the guilt enough to stop her or would it be worth it to be free? A little extra reimbursement would go a long way in her life. Of course, she's not the only woman in the office with mountains of debt. Can the assistants help each other out of debt without being caught? While it's definitely got a bit of a fairy tale element to it, I think there's some serious appeal to anyone who has felt like they'll never make it in their career or never pay off their student loans.
3. The Internet of Garbage by Sarah Jeong
This short, ridiculously informative eBook isn't perfect, but absolutely worth the read. What we consider garbage on the internet largely depends on who we are, but this book argues that it goes beyond spam. Jeong writes about harassment, community moderation and even how copyright law pertains to our image on the internet. One thing that I really loved about this book was that it links to outside articles for more information. When she mentions a specific post from reddit, she links to that post. Instead of paraphrasing, she comments on something that we are allowed to read first. It's a great read for information students, plus it's incredibly short.
4.Hyperbole and a Half by Allie Brosh
Hyperbole and a Half is a series of illustrated and slightly exaggerated short essays that I truly regret not reading sooner. I picked it up to read something to break my reading slump and ended up reading late into the night until I realized that if I kept laughing as loudly as I did that I would wake up my husband and our dog. If you have a dog whose quirks you don't understand (and are sometimes alarmed by), have had depression, have an obsessive personality, or ever wonder why you can't make yourself do the things that are good for you, then you will like this.
5.The Chilling Adventures of Sabrina, Volume One by Robert Aguirre-Sacasa
I grew up reading Archie comics and watching Sabrina, the Teenage Witch, so I am very much game for this title starring Sabrina Spellman. This volume has great colors, relying mostly on shades of black and orange to really set the mood. It's a Sabrina origin story, beginning with her parents (a warlock who married a mortal- scandalous!) and skipping through the first sixteen years of her life leading up to her witchy confirmation night. It's darker than all the other Sabrina incarnations and more in line with traditionally terrifying witches (and the film The Witch) than the Sanderson Sisters. Although Winnifred did have some serious love for her flesh-bound spell book, so I guess I respect that.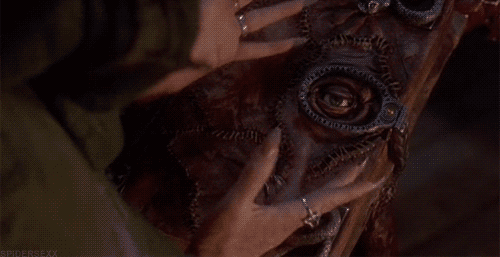 That's all I've got for August, see you next month!